LUGANO, April 7th, 2020 • From April 1st 2020 the 400 MHz NMR is fully operational in Cerbios.
The new equipment expands Cerbios's already outstanding analytical chemistry capabilities, which now comprise the 400 MHz NMR, HR-Q-TOF mass spectrometer, DSC and UPLCs in addition to all of the most common equipment and techniques.
The new instrument is equipped with a multi-nucleus probe and autosampler, thus allowing completely automated acquisition of mono- and bi-dimensional NMR spectra. With this new state-of-the-art 400 MHz NMR, our researchers will be able to perform complete characterization of HPAPI, identification of impurities, and carry out critical kinetic studies in house. This is a major step in streamlining the R&D activities.
Cerbios has also created an NMR team, which will improve the analytical department's response time and self-sufficiency. The NMR team will perform and interpret the more complex NMR experiments to support the needs of Cerbios's R&D and QC departments.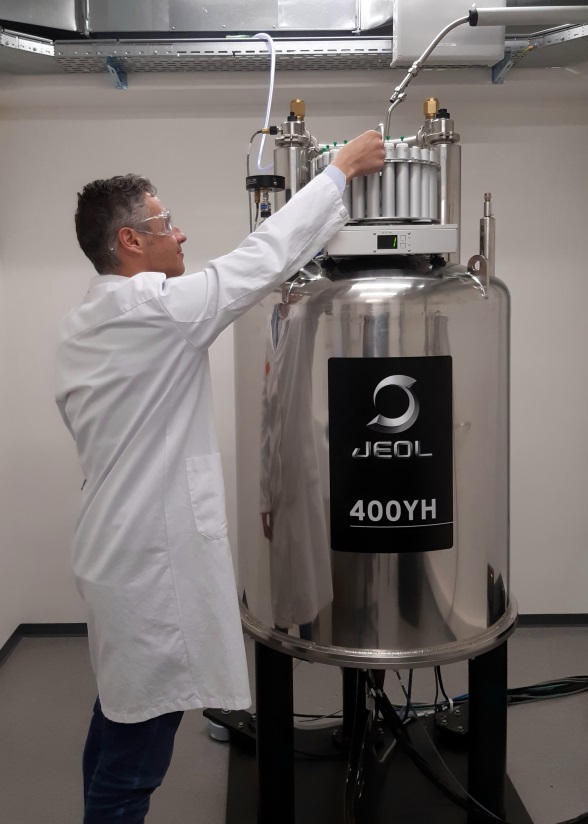 For more information please contact:
Cerbios-Pharma SA
Phone :  +41 (0) 91 985 63 11
Fax :  +41 (0) 91 985 63 25
Email : sales@cerbios.ch
Or use our online contact form.