LUGANO, Switzerland • Continuous improvement and Innovation are part of the Cerbios DNA, and today, more than ever, a focal point of the Company is Lean Management. Applying Lean principles means working proactively, and the rewards are long lasting both for the Company and its Customers. In line with this simplified approach and to be closer to market needs Cerbios has organized the business areas into 3 main lines: CDMO Services, Pharmaceutical (Drug Substances and Drug Products) and Animal Health.
An exhibitor at the CPhI 2021, Cerbios reflects this "simple-thinking" philosophy in its new booth. Cerbios guests in Milan can appreciate the visual design of the booth panels and take advantage of its meeting rooms dedicated to each of the business areas, whether this be Generic APIs, Finished Formulations or CDMO services (ADCs and HPAPIs). To meet current requirements, all the spaces are designed to facilitate the hosting of visitors, guarantee privacy during meetings, and comply with the current COVID 19 regulations.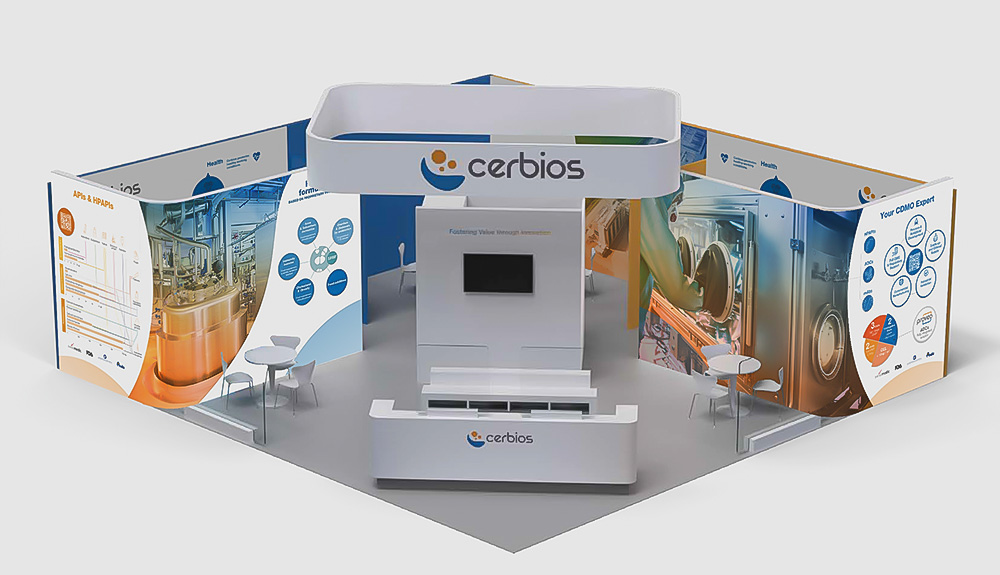 Keep it simple! – CDMO Services
ProveoTM (a division of Cerbios dedicated to Antibody Drug Conjugates) is an eminent example of how Cerbios aims to simplify its partners' lives.
The purpose of ProveoTM is to streamline the supply chain of all ADC components from payload and antibody to conjugation and fill and finish, all provided under the same organization. This one-to-one partnership means a saving in both cost and time. Find out more at https://cerbios.swiss/cdmo-services/adcs/
As regards HPAPIs, the approval of a new plant by Swissmedic in June 2021 is the latest addition to the Cerbios portfolio. This new production line is dedicated to non-cytotoxic highly active products with containment allowing OEL up to 30 ng/m3 and a manufacturing capacity of up to 35 kg batch size. The new plant is yet another step forward in our aim to provide support for our partners from clinical up to commercial scale for HPAPIs, optimize project timelines, and retain the process expertise acquired in the development stage. The Company's "never stop" attitude towards meeting customer requirements can be seen in the new cytotoxic line (200gr-2kgs), which is under construction and due to be finalized within the next 12-18 months.
The Cerbios CDMO expanded team is looking forward to meeting you at CPhI Milan: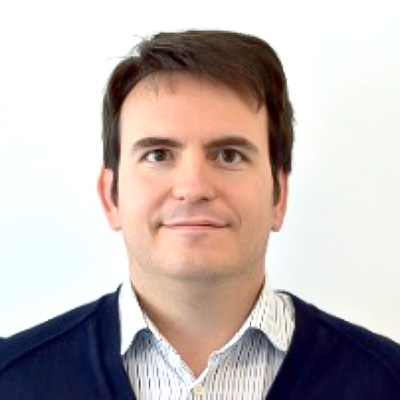 Valentino Mandelli • BDM – HPAPIs and Payloads
Valentino holds a degree in Pharmaceutical Chemistry and Technology. Having gained an initial experience as Medicinal Chemist, he worked for the last 9 years in M&S for APIs and CDMO services. In March 2021 he joined the Cerbios Team as BDM.
"Different sources confirm that more than 30% of the development pipeline can be considered HPAPIs. Let's discuss YOUR needs at CPhI Milan!"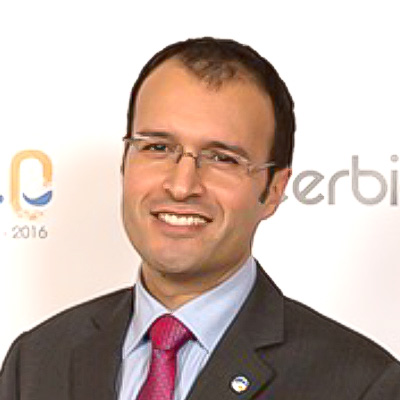 Vítor Sousa • BDM – ADCs and Biotechnology
Vítor holds a PhD in Biochemistry from Nova University Lisbon. From a scientific background, he worked for 13 years in CDMOs in the field of biotechnology. For the last 5 years he has been part of the Cerbios team, covering roles such as R&D Manager and is currently BDM for CDMO activities.
"Providing integrated solutions for ADC development and manufacturing can overcome the hurdles that are found in the complex supply chain of this type of product. Our end-to-end services from payload and mAb to conjugation and F&F will make your job simpler!"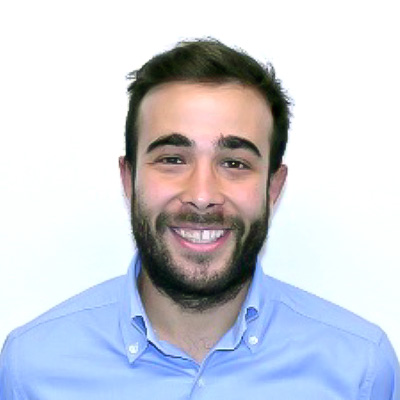 Filippo Caragnano • BDM – ADCs and Biotechnology
Filippo holds a degree in Pharmaceutical Chemistry and Technology from the University of Milan). He started his career as QP and QA Assistant, and in September 2021 he joined Cerbios as BDM of CDMO services for ADCs.
"Market Information indicates that over than 60% of ADC Manufacturing is currently outsourced. Visit us at CPhI and discover our strengths and expertise!"